How to Transition to a Stunning Silver Gray Look
September 01, 2023
Author: Luc Vincent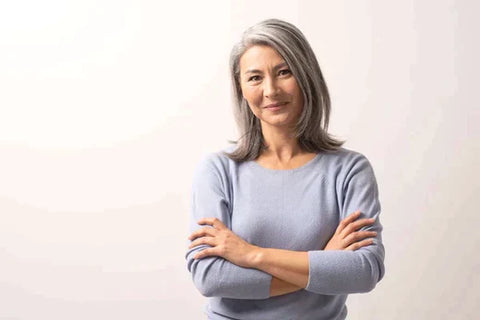 Are you considering transitioning to a natural silver gray hair? Adopting silver hair helps many women feel more confident and liberated.
This fashion trend also offers a significant time and money saving advantage.
We know many women who have navigated their own journey to silver gray hair.
For many of these women, this transition is more than just a lifestyle choice. Embracing silver is a declaration of self-love and beauty at any age.
Whether you're already planning your journey to silver gray hair, still hesitant, or simply curious, we hope these three methods will provide you with advice and support in your decision:
1. Opt for the Gradual Method
Prefer a gradual approach?
If so, this first technique is for you.
Simply stop dyeing your hair! As your silver grows in, continue to get regular haircuts until your last tinted strands are gone.
Advantages and Disadvantages
The advantages of this simple method are the time and money you'll save. Who wouldn't like that?
If the color of your dyed hair is significantly different from your natural silver, you'll probably see a noticeable regrowth line. If you have lighter dyed hair, the line might be less obvious.
Until your natural color has completely grown in and the dyed lengths are gone, which can take months or years, you won't truly know what your silver hair will look like.
Before committing to the gradual strategy, consider if you might get discouraged halfway through. If so, you might prefer another approach.
On the other hand, if you have patience and aren't bothered by the regrowth, this method is simple and cost-effective.
2. Fast Track to Your Natural Silver Gray Color
Want to speed up the process?
Perhaps you're ready for a more dramatic look, feeling impatient, or not a fan of long transitions?
If that's the case, our second method combines coloring and cutting.
Allow your silver roots to grow a few inches. Then, visit a trusted stylist for an ultra-short and chic haircut that's easy to maintain.
Advantages and Disadvantages
If you're looking to save money and time and are eager to sport your silver gray hair as soon as possible, this method is for you.
Whether you've done it before or not, cutting your hair very short might feel a bit intimidating.
After all, going from a very short cut to your desired length can take quite some time.
On the other hand, you might discover that you enjoy the convenience of short hair, especially if you're active.
Either way, this method is perfect for women who are ready for something entirely new, already have short hair, or aren't intimidated by big changes.
3. Blend the Colors
Want to keep your length but avoid a noticeable regrowth line?
A skilled colorist can blend your emerging silver with the rest of your hair.
The right stylist will use silver-toned highlights or other techniques to merge your silver and current hair color.
In a matter of hours, you could transition from silver roots to a fantastic hybrid look.
Advantages and Disadvantages
Those who are nervous about going full silver, want a more gradual transition, or wish to maintain their length while avoiding a sometimes obvious regrowth line, might choose this popular method.
Seeking professional help means this method could be more costly (and time-consuming) than others.
You'll likely need several salon treatments over a year or more to maintain the balance between silver and dyed hair.
However, a subtle and gradual transition allows ample time to acclimate throughout the process.
You'll also have the chance to see how you feel about silver right away, as your silver color will be blended with the rest of your hair.
Like it? Great, continue! Don't like it? No problem, it's easy to go back to what you had before or try an entirely different method.
With any of these strategies, every woman can gracefully embrace her journey to silver hair at any age.
At Luc Vincent, we've developed specific products for silver hair. This includes our Sans Yellow purple shampoo and conditioner that protect and enhance shine.
These products neutralize yellow tones in blonde, gray, or white hair for both women and men (hair and beards).
Unlike other similar products, Sans Yellow can be used daily without leaving purple hues in your hair.
It helps prevent brittle hair, maintains color intensity between services, and hydrates hair without weighing it down.