Essential Tools for Home Hair Styling
September 01, 2023
Author: Luc Vincent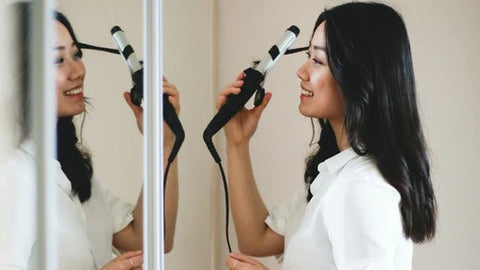 As children, we've all witnessed our mothers, aunts, or neighbors curling their hair with a curling iron. In fact, a few decades ago, the curling iron and rollers were the two main tools available to women styling their hair at home. Since then, new gadgets have emerged on the market: some have proven very useful, while others have only seen temporary popularity. To help you make the right choices, let me introduce you to my favorite hair styling tools and explain why they are essential for styling your hair at home.
How to Choose a Hair Dryer
Start by evaluating the weight of the hair dryer to ensure you can hold it for extended periods. A shorter nozzle will allow you to hold it close to your hair, making precision maneuvers easier. Check the motor's wattage. Avoid hair dryers with weak airflow, as they can damage your hair. Instead, choose a device with a wattage ranging from 1600 to 1800. There are now various materials available for hair dryers, such as tourmaline and ceramic, which increase the production of negative ions when heated, resulting in smoother hair.
The most important aspect when using a hair dryer for styling is to use the nozzle attachment. This helps to direct the air flat onto your hair, sealing the cuticles and adding shine. Avoid placing the nozzle directly onto the brush, and maintain a small distance and angle if possible. Also, keep all heating tools in continuous motion to prevent hair damage.
To maintain your hair dryer, regularly clean the air intake to remove trapped hair and dust. This will keep the device at maximum power and extend its lifespan. When purchasing a hair dryer, ensure that a diffuser attachment is included; otherwise, universal diffuser attachments are available.
How to Choose a Flat Iron
A flat iron has become an essential tool for its versatility in creating various hairstyles. Opt for a narrower flat iron that can easily reach the roots and allow for hair variations. A width of around 4 cm is sufficient. The iron should offer adjustable heat settings suitable for different hair types and textures, including fragile hair. The thermostat settings should range from approximately 130°F to 450°F. A ceramic, tourmaline, or hybrid iron provides a smoother effect. Tourmaline is known for its sealing effect on hair and continuous release of negative ions throughout the day. Nano ceramic irons also increase hair shine and seal. Clean your cooled flat iron with rubbing alcohol and a damp cloth to remove stubborn stains.
Avoid oil-based products in your hair if you frequently use a flat iron, as heated oil can retain heat on the hair and, over time, cause severe damage. Instead, use thermal products to protect and enhance hair shine.
Choosing Heated Rollers
Among various types of rollers, heated rollers are popular. They are easy and quick to use and provide excellent results. Ceramic heated rollers offer maximum efficiency. Rollers covered with velvet are easier to work with as they are non-slip and stable in the hair. Those with small metal clips or teeth are even easier to use. Allow the rollers to heat sufficiently in their box before using, following the manufacturer's recommendations.
Heated rollers are used on dry hair. Leave the rollers in as long as possible until both the hair and rollers cool. Then, remove the rollers and finger-comb your hair for movement and volume. This process can be repeated several times a week without damaging the hair.
Curling Iron
Even though curling can now be achieved with a flat iron, the curling iron remains a useful tool in our daily lives. It has evolved with new materials such as ceramic and tourmaline, which offer sealing properties and intensify hair shine. Look for a ceramic or tourmaline curling iron with a thermostat to adjust the heat as needed. Curling irons with swivel handles are easier to use.
Hair Brushes
There are numerous types of hair brushes. Metal, tourmaline, or ceramic brushes are ideal for quickly adding shine to the hair, similar to a curling iron. Perfect for curling hair tips, they possess ionic properties like ceramic or tourmaline tools. Choose a brush size suitable for your hair. If you struggle to create volume, your brush might be too small or too large. A square brush with rounded edges is perfect for reaching the roots properly.
Essential Accessories
- Metal hair clips.
- Plastic telephone-cord style elastic bands without metal joints, which are less damaging than traditional rubber bands.
- High-quality bobby pins that regain their shape after removing your finger from between the prongs (perform the test). Choose the suitable size and a color that matches your hair or opt for vibrant colors for decorative accessories.
- Also, have on hand:
  - A tail comb.
  - A teasing brush or comb.
  - A paddle brush
  - A detangling comb.
  - Long scissors for ease and safety.
  - A fine-tooth comb.
  - A finishing brush.
Recommended Brush
Throughout my hairstyling career, I've likely used every type of brush available on the market. However, the square brush I recommend without hesitation is this one, available in 25mm for short hair, 33mm for short to medium hair and 44mm for medium to long hair.
Its square barrel is infused with ceramic, equipped with embossed nylon bristles, and features a velvety rubber handle. The embossed bristles are gentle on the scalp while providing better grip and control to enhance styling performance.
Due to its four sides, the barrel offers increased control for styling, adding volume to the roots and throughout the head, as well as effectively straightening hair. Ceramic technology eliminates static and frizz, leaving hair shiny and healthy while efficiently distributing and retaining heat. The barrel's perforations allow heat to circulate for more effective drying.