The Hair Color Numbering System
Often, hairdressers use numbers to identify the color of hair dye products.
Here is the meaning of the numbers used to code hair colors.
1 - The base color of your hair (natural or colored hair)

Colors and their equivalent in hair coloring
Warm reflections (yellow, orange, mahogany, red) suit tanned complexions or those with a yellow or peach undertone, while cool reflections (blue, purple) flatter fair or rosy complexions.
Now that you know the two systems, let's see what the combination of a base color and a reflection looks like:
A 6.3 coloring gives a dark blonde with a golden reflection.

A 4.6 coloring gives a medium brown with a red reflection.

A 1.1 coloring gives a black with a blue ash reflection.

And so on.
Remember that the higher your first number is, the more dominant the second will be. For example, 6.6 will be much more fiery red than 4.6, which will be more brown than red.
When the first number exceeds 6, the reflections have a predominant effect on all numbers after the dot (the color of the reflection).
In summary
The first number indicates the tone level. Example: 5 = light brown.

The second number designates the main reflection. Example: 3 = golden.

A third number can be added if you want a secondary reflection. Example: 4 = copper.
This code will give a light brown, golden, and slightly coppery color (5.34).
The numbers may vary slightly depending on the manufacturers, which is why it is important to rely primarily on their own color chart.
In rare cases, some companies add a 0 to lighten or intensify the reflection. Placed before the reflection number, 0 has the effect of lightening it. For example, 5.04 will give a slightly coppery light brown.
Conversely, placed after it, the zero intensifies it. Thus, 5.40 will give an intensely coppery light brown.
To designate intense reflections, doubling is also used. Thus, .44 represents an intense coppery reflection, and .66, an intense red reflection.
To understand hair coloring well, you must master colorimetry, or the science of colors, and always keep in mind that complementary colors on the color wheel cancel each other out.
With this knowledge, you now know that if you ask for golden highlights, there will automatically be yellow in your coloring.
3 - Complementary colors on the color wheel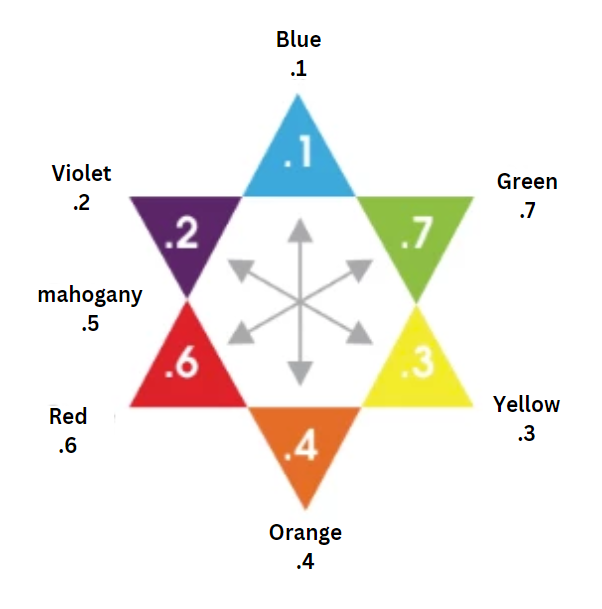 Colors of reflections that neutralize each other
Here are some tips to help you remember complementary colors:
Blue (.1) is complemented by orange (.4). Think of your vacation! The sea and the sun... Yellow (.3) is complemented by violet (.2). Think of the colors of Easter. Red (.5) or (.6) is complemented by green (.7).
Think of Christmas.
As you will see, with these tips, it will be easier for you to find the color that cancels an unwanted reflection. For example, if you find that your hair is too yellow, simply add an iridescent reflection to your coloring to reduce or eliminate the yellow.
So, if your hair color is 8.3 and your hair seems too golden, simply add a little 8.2 to your next coloring (about one part of 8.2 to three parts of 8.3). The violet will have the effect of "extinguishing" the yellow, since complementary colors on the color wheel cancel each other out.
This is why, in cases of blonde hair that is too yellow or even to prevent hair from yellowing (which is often caused by oxidation), the use of purple or blue shampoo is prescribed.
Hair colorists will add accents to the color to get rid of an undesirable or too intense reflection.
Hair peroxide is hydrogen peroxide in the form of an activator cream for color development.
10-volume peroxide promotes the adhesion of semi-permanent dyes to hair for the desired reflection. It can also be used with a hair remover.
The 20-volume peroxide, on the other hand, opens the cuticles for good penetration of the color to the hair cortex and lightens your current color by about two tones.
As for 30 and 40 volume peroxides, they can achieve 3 to 4 degrees of lightening.
So, with 30-volume peroxide, you can achieve approximately an 8 starting from a 5.
Similarly, if your natural hair is equivalent to a 2 and you are aiming for a level 6, you will choose a 6 hair coloring with the desired reflection. You will then mix it with 40-volume peroxide.
Now you know the secrets of the numbers used to code hair colors.