How to Successfully Color Your Hair at Home
Yet, when you make the right choice and use the products properly, it is possible to achieve excellent results.
How do you choose the right color and apply it?

How do you maintain your color?

Do you need to do bleaching?
The more you know about hair coloring, the better you will be able to make the right choices.
In this article:
3 types of hair coloring

Before proceeding

Pharmacy hair dyes

Tips and tricks

Three unique products for your hair
Thus, those who wish to experiment with home hair coloring can do so without fear, while those who prefer to rely on a professional can better understand the work of the colorist and become familiar with their vocabulary.
Professional hair coloring products are now sold in many salons, and they will be part of my discussion, alongside the dyes sold in pharmacies. It is up to you to make the choice that suits you.
Trying a new color is embarking on a new experience. That's why, before you take the plunge, whether you opt for home or salon coloring, with homemade or commercial products, you need to know some details to better communicate with your hairdresser or better succeed in your experiments at home.
Your personality traits and the desired effect are among the first factors to define when establishing your choice.
Next come your skin tone, and finally, the current color of your hair.
These factors will help you determine if it will be possible to achieve the desired color in one step and what risks may be involved.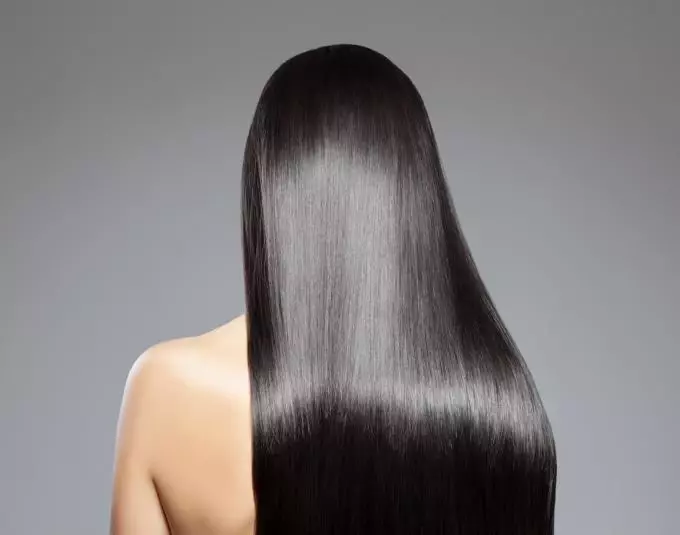 1 - Dark colors
Very dark colors accentuate facial features, wrinkles, paleness of the complexion, acne manifestations, and rosacea.
Before venturing into a dark color like black, think carefully and remember that going back is difficult.
You may even need the help of a professional, and it may cost you a lot for chemical hair removal treatments.
And as if that wasn't enough, your hair may also suffer significant damage!
If you want to darken your hair, start with a lighter color than the one you wanted.
Examine the effect produced, and then, if you think you can darken further, you can do so within 48 hours of your first coloring or preferably when it is time for the next coloring treatment.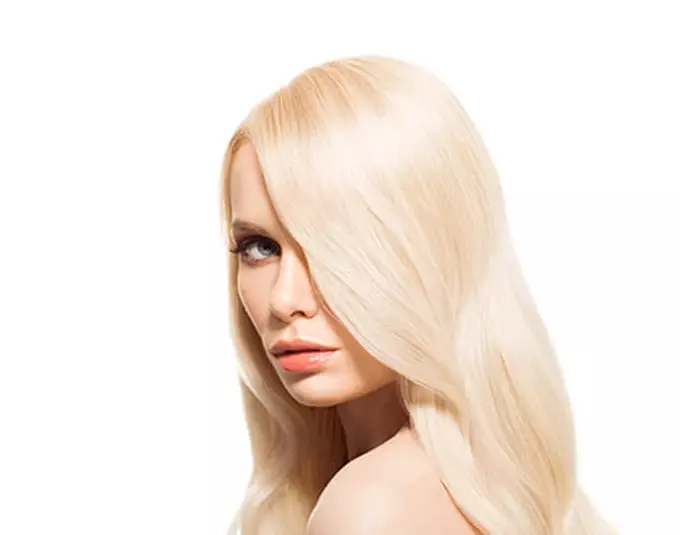 2 - Light colors
Before undertaking this section on light or very light colors, let us recall the most important law of coloring:
NO COLORING CAN LIGHTEN ANOTHER.
This means that you cannot lighten your hair with a light coloring applied to your dark coloring, even after several weeks or months!
As long as a hair remains imprinted with a dark color, it will not lighten.
Only the new growth will accept the new color, creating different color levels.
Therefore, you must apply a hair color remover or bleach to the sections of your hair that still have the old color, or even cut them if you consent.
You must choose between these two possibilities before applying the new color.
If you have medium brown or even dark blond hair, try not to be carried away by your desire to dye it very light or platinum blond.
A radical change could damage your hair, especially if it is already colored.
Instead, go gradually, month by month, two shades lighter at a time.
This way, it will be easier for you to adapt to the new color, and your hair will thank you.
For a significantly lighter color change, it is suggested to use protein hair treatments before and after, once or twice a week.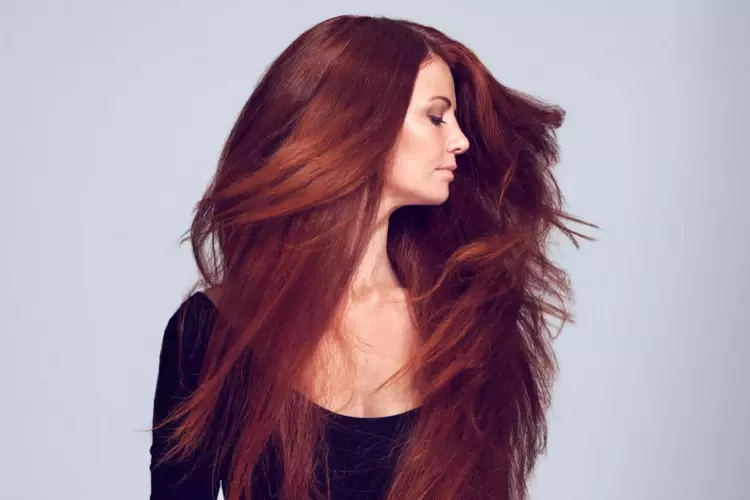 3 - Red or Copper-Based Colors
Before venturing into flamboyant colors, it is important to know that wearing red attracts attention to oneself.
Moreover, red, due to the nature of its pigment, is the most unstable of colors.
Depigmentation (bleaching) of the hair is, therefore, faster with intense reds after a few shampoos, and even faster with porous hair.
As a result, red requires rigorous maintenance.
Note also that red highlights rosacea problems and requires heavy makeup for fair or pale skin.
Of course, freckles are accentuated, which can, in many cases, be quite charming!
Remember:
Very dark colors accentuate facial features, wrinkles, paleness of the complexion, acne manifestations, and rosacea.

Start with a lighter color than the one you wanted.

Only the new growth will accept the new color.

A radical change could damage your hair, especially if it is already colored.
To determine if your color will suit your skin tone or produce the desired effect, here is an easy method to follow.
Find a piece of fabric or paper that matches the desired color.

Lay your hair back (while being makeup-free) and cover it well with a white cloth or towel.

Standing in front of a mirror, hold the fabric or paper close to your face. You will then have a good idea of your choice.
For a simple natural and risk-free effect, remember that pale complexions go well with warm, golden, coppery colors. Their use will give a warmer complexion.
Dark complexions, on the other hand, go more or less well with light colors.
To determine if you have a warm or cool tone, stand in front of a mirror, place a piece of aluminum foil on one side of your face (cool tone) and a piece of golden fabric or paper on the other (warm tone). You will then see which one suits you best.
For red or copper hair, stay in the same shades, but without necessarily going for red or copper highlights for the eyebrows.
Since eyebrow coloring can be risky, it is best to seek the services of a specialist.
Pharmacy hair dye manufacturers contraindicate their use on eyebrows and, especially, on eyelashes, which could cause blindness.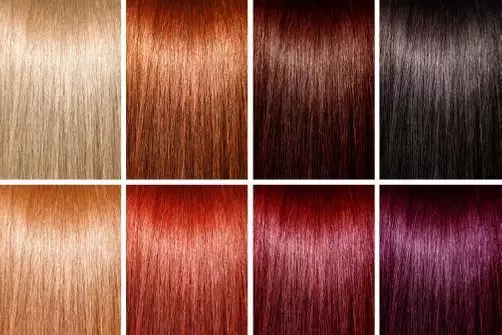 For a long time, pharmacy hair coloring products were discredited by many, especially hairdressers, who considered them of poor quality.
Perhaps they were right at one time, but nowadays, there is no reason to complain since the manufacturers are the same for professional dyes as for those in pharmacies.
Of course, the nuances of highlights and colors are less varied in pharmacies than in salons.
On the other hand, the risks of errors or even disasters are higher...
Remember that mistakes are simply human, and the product is not to blame.
Firstly, you need to read!
Read the instructions on the box and in the pamphlet inside.
Not all products work the same way, and the processing times are different for several of them.
For these reasons, the packaging often provides a small color chart that tells you what your initial color will become after application.
Do not rely on the photo on the packaging.
Your own result may not necessarily be identical. (Remember that it depends on your current color.)
On virgin hair
Apply the entire color. It is important to perform an allergy test before coloring your hair for the first time in your life.
It is very simple: prepare a small mixture of the product, a few drops at a time, and apply it to the skin on the back of the neck, under the hair or under the armpit. Wait 48 hours, then check for the following reactions:
Redness

Swelling

Intense and constant tingling

Itching
If one or more of these signs appear, you may be allergic to the product. In this case, do not use it.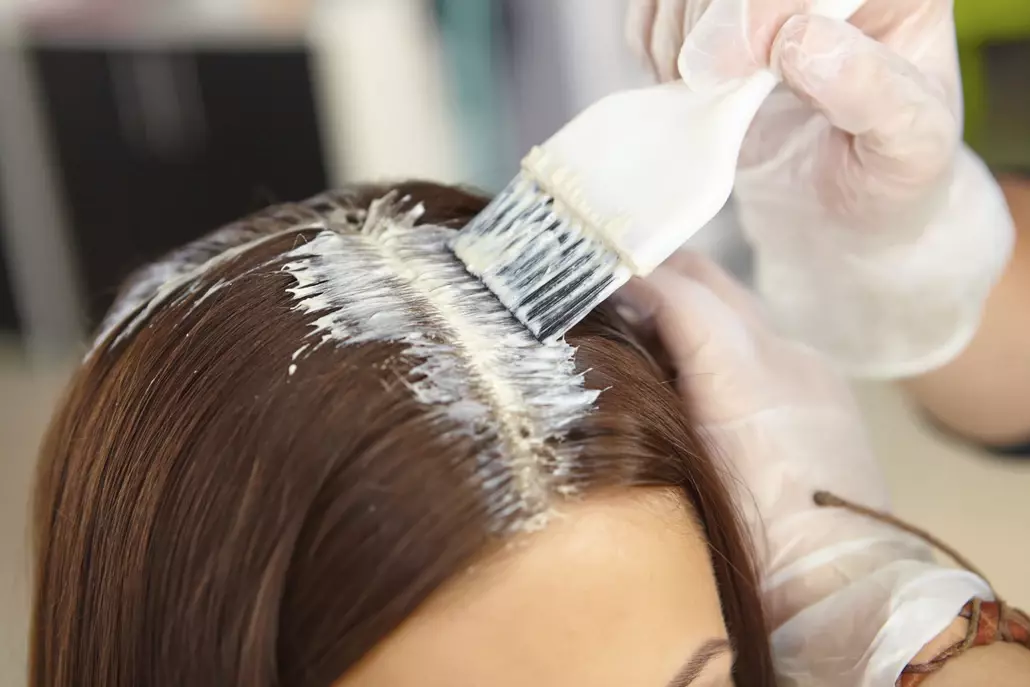 Touching up the roots
Touch up the roots in the weeks following coloring. For some people, the time frame may vary from three to six weeks.
It all depends on how fast your hair grows and how fast gray hair appears. The difference between your coloring and your hair's natural color may also be a factor.
The important thing is not to do a full coloring (roots and tips at the same time), as your hair would become saturated with colorant and, at worst, damaged by oxidants. You would end up with dull and lifeless hair.
Therefore, limit yourself to the roots, going from front to back and section by section. Try not to overlap with the old color. You will also need to wait for the time specified on the box.
If you want to refresh the color on the lengths and ends, simply apply the color there as well. To do this, knead the color first to make it penetrate better. If you have excess color, you can now apply it to the lengths and ends. This step should be done in the last third of the time specified.
When massaging your hair, do not proceed as with shampooing, and avoid scratching your scalp so as not to irritate it. Note that for gray hair, the time needed may be longer.
Remember that, unlike in salons, you cannot play with the nuances of pharmacy colorants unless the manufacturer specifies it in the instructions. These colorants are not meant to be mixed like professional colorants. Avoid the catastrophe: DO NOT MIX THEM!
Remember:
Read the instructions to avoid undesirable results.

Perform a home allergy test before applying color.

Do not perform a full coloring (roots and tips at the same time).

Do not mix colors.
Allow me to share with you a few tips that will make your experience easier.
These tips apply to both pharmacy and professional hair colorings.
Reminder of the principle of coloring: A COLORING CAN NEVER LIGHTEN ANOTHER.
It follows that a dark color cannot be lightened by another color, even if the latter is lighter. You must decolorize beforehand with a hair demakeup, commonly called a stripper.
Sensitive scalp?
If you have a sensitive scalp, apply small amounts of vegetable or professional oil to your scalp before coloring.
Avoid touching the roots of your hair so as not to alter the color. Ideally, use the applicator from your last coloring, remembering to rinse it well beforehand.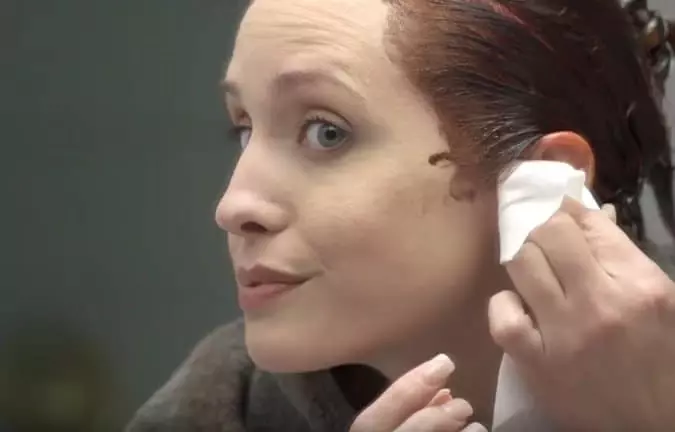 Did the perimeter of your face easily get stained?
Be careful not to touch the roots of your hair, and apply thin layers of petroleum jelly at the edge of your hairline.
For stubborn stains on the skin, you can use cigarette ash.
Dip a wet cloth in the ash and rub the stained skin.
Repeat as needed and then wash your skin with mild soap. Rubbing alcohol is also very effective in removing dye stains on the skin.
The best way to clean the perimeter of your face is to use the color removal technique.
Here's how: before rinsing your hair dye with water, vigorously rub the perimeter of your face with your fingers to lift the dye.
Then, rinse your hair, shampoo or perform any other necessary steps according to the instructions accompanying your coloring product.
To avoid getting stains on your clothes during your at-home coloring, I strongly suggest wearing old clothes.
If you get stains on your clothes, it's best not to dilute them immediately. Instead, cover the stained area with hairspray and let it dry. Then wash as usual.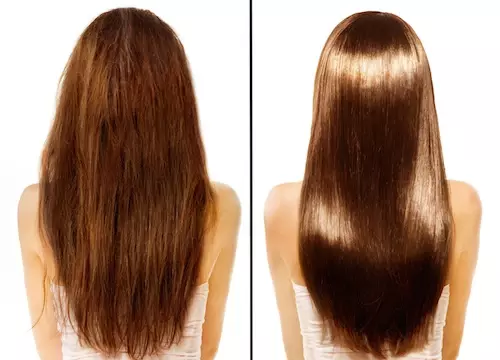 Want more shine?
To add more shine to your hair color, massage your hair while using the color removal technique.
Then add a little water and massage again.
For the next step, the coloring rinse, start with warm water and after shampooing, rinse with the coldest water you can tolerate.
The cold water will help close your cuticles, giving you a brighter color and reducing the risk of your dye rubbing off on your pillows, for example.
Remember to:
Apply small amounts of vegetable oil to your scalp if it's sensitive.

Protect your face with petroleum jelly to avoid staining your skin.

Wear old clothes during coloring!

Cover stained clothing with hairspray and let it dry.
Unique products for your colored hair
In order to innovate, my team of chemists for my hair product line, Luc Vincent, conducted several tests before finding the ideal formula to preserve the intensity of your hair color with two shampoos so gentle that you can use them daily without weighing down your hair.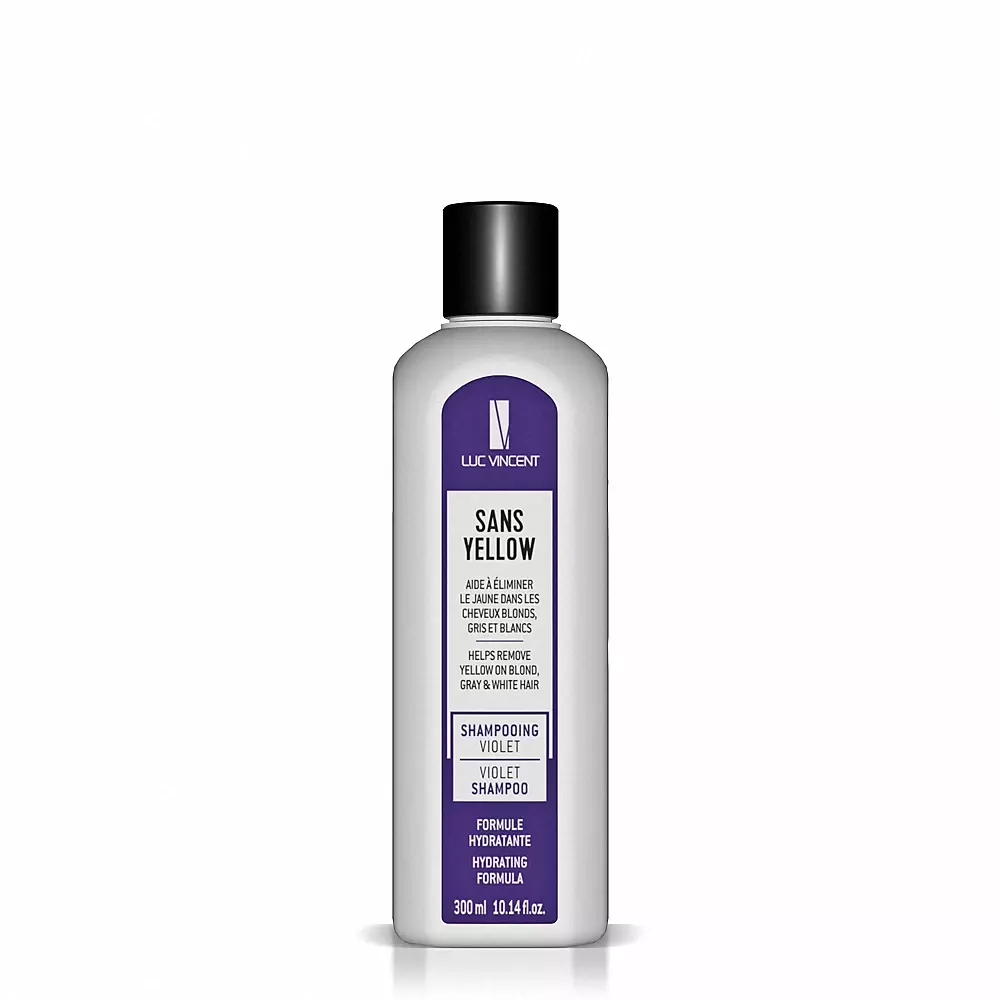 Designed to eliminate yellow tones on blonde, gray, or white hair, Sans Yellow increases shine, works to prevent brittle hair by improving texture and helps preserve color intensity between services, while regenerating hair health with each use.
With a light fragrance, Sans Yellow does not contain methylisothiazolinone (MI), ammonia, peroxide, or paraphenylenediamine (PPD).
Made 100% in Quebec, this shampoo will allow you to quickly and easily master those annoying nuances thanks to its violet color pigment.
Sans Yellow cleanses gently and can be used regularly without the need to alternate with another shampoo.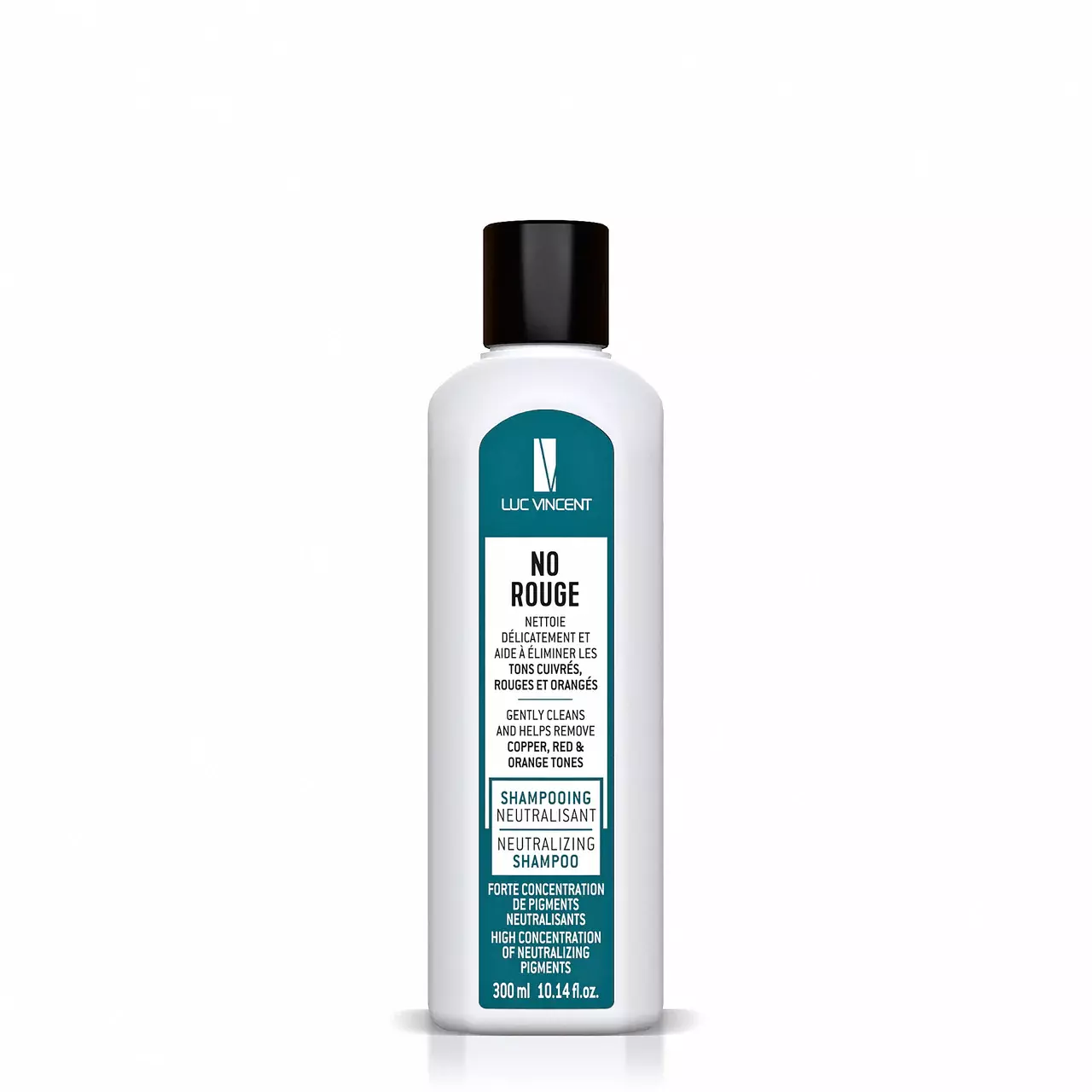 People with dark hair haven't been forgotten.
No Rouge was designed to control unwanted copper, orange or red reflections.
Its perfectly balanced blue-green color and high concentration of green pigments help neutralize a wide range of these reflections while providing hair with shine and body thanks to its moisturizing formula.
Also made 100% in Quebec, No Rouge cleanses gently and can be used regularly without the need to alternate with another shampoo.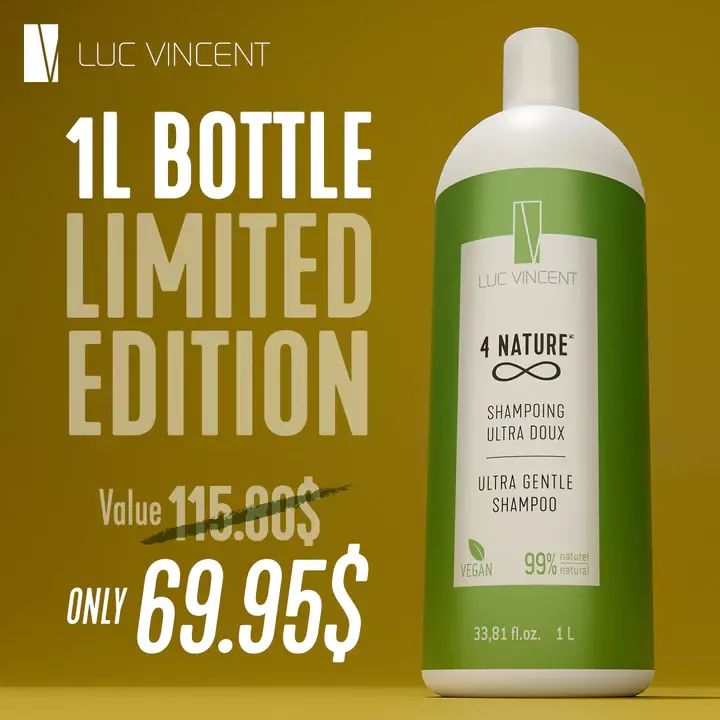 Ultra-gentle vegan shampoo ideal for colored hair!
4 Nature ultra-gentle vegan shampoo: ideal for natural, colored hair and sensitive scalps.
Composed of 99% natural ingredients, it contains no sulfates, silicone, parabens, PEG or dyes.